June 3-5 in Port Washington Wisconsin
It's hard being a 21st century, modern day pirate. Any way you look at it, the ocean is roughly 1,500 miles away. And, if you're as close to Chicago as I am, the weather is hardly tropical. But these terrible problems have been mitigated by wonderful reinstatement.
The Port Washington Pirate Festival is back!
Port Washington was my first pirate festival, and it became a yearly ritual. Situated beside the wide waters of Lake Michigan, in the picturesque resort town of Port Washington, the festival was lively, colorful, and full of interesting people. It introduced me to pirate rock and pirate folk music. It provided my first cruise on a tall ship. And, while dressing for one of the events, I had the revelation that ultimately revealed the character of Scarlet MacGrath, the pirate heroine of my novel series.
The pirate festival was free. On our first visit, we visited on the cheap, by staying at a local campground. In future years, we opted for each of a variety of low-cost local motels – several of which are nearby. Port Washington also offers a high-rise Holiday Inn, situated right next to the action.
Port Washington is a small town, and the festival takes place on a lovely strip of land between picturesque buildings and the wide expanse of the historic port. Local fishing boats, decorated with pirate accoutrements, bob in the waves. A gazebo sheltered singers and musicians.
The fest's organizers also invited historical reenactors to set up an encampment, where visitors could learn about real 18th century life, from blacksmithing to waving to recreational ax-throwing. The reenactors also provided a small troop of redcoats for the pirates to harass.
The festival, in true pirate fashion, provided a Buccaneers Bash on Friday night, with a tent full of music and loud music. On Saturday, the tall ship (Windy II during my first time at the fest) sailed into the harbor with black powder cannons blazing. The "governor" made a speech, the pirates kidnapped his daughter, and subsequently "negotiated" for a weekend long free pardon for all the pirates. Much cheering. Toasts of rum.
The body of the fest was pirate acts – mostly musical – and a "thieves' marketplace" for vendors. I will say that the variety of vendors covered a lot of ground. Exotic carved wooden folk art from Thailand, pirate garb vendors, arms merchants (of the 18th century variety) mingled with jewelry, kid's trinkets, and a variety of other crafty type wares.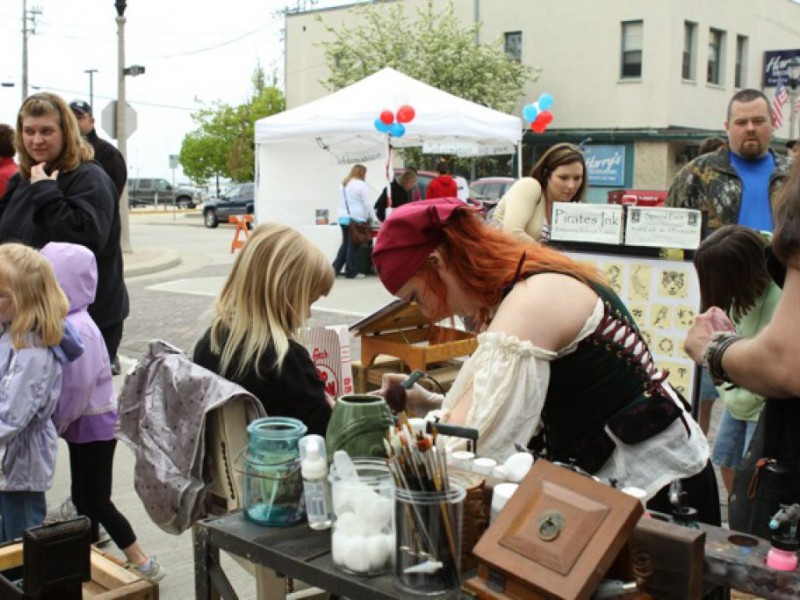 Vendors claim to have all done well. The only exception? A soap merchant. Soap and pirates… maybe this one was doomed from the start.
The good ship Windy II offered cruises starting at about $30. For additional fees, guests could be aboard during the Saturday morning "attack" on the port, or during dinnertime (with a meal) and late Saturday night, when the fireworks were let off. Fireworks over a pirate event. Truly grand.
In between the educational events, (is sampling historically accurate grog research?) and listening to electric guitars belt out sea shanties, the people-watching was prime. Small children dressed in finery from the Disney Store, reenactors who had slaved over their wool and linen garb for dozens – if not hundreds – of hours, moms who grabbed a pattern from Simplicity and a dozen yards of stripped fabric, and biker-types who dress like this every day and are just a little scary-looking. But it was a friendly group - everyone happy. And why not? We were pirates!
I spent many happy hours wandering through this wonderful event. I even like to think I contributed to it – when the committee asked for suggestions, I told them that they needed belly dancers. Belly dancers and pirates are two great things that go great together. (Even better than peanut butter and chocolate.) The very next year, a troop of belly dancers appeared.
And then… it disappeared. A notice went up, and the Port Washington Pirate Festival was no more. For three long years, the pirates in the Midwest had to do without.
But this year the festival is back!
Under new management, with limited resources it's true, but back. The belly dancers. The tall ship (not the Windy II, but a historic vessel, the
Denis Sullivan
will be offering cruises – for a fee, I'm sure. The belly dancers are back. And I'll be doing my part, spinning pirate tales, exploring the secrets inside a pirate chest, and autographing copies of my books.
So, if you are in the Midwest on the first weekend in June – that's June 3,4 and 5 this year, come one up to Port Royal and have a good time.
Yes, all these pictures are actually from the fest.